12/1 to 12/23: Open Regular Hours.
12/24: 9am-3pm. 12/25 to 1/1: Winter Break.
Login
Log in if you have an account
Dont have an account? Register
Landscape Design and Yard Maintenance Services
Having served the San Leandro and East Bay markets for over 30 years, Evergreen offers Landscape and Design Services to help turn your yard and garden into a spectacular, colorful showcase that you will be proud of for years to come! Evergreen specializes in full custom landscapes, from start to finish. We have many very satisfied customers, who recommend us to their neighbors and friends due to the quality and expertise we put into every job we do.
We also offer Yard & Garden Maintenance Service!
A recent customer, Ann Marie Steig, wrote:
…"While I was at Evergreen, I asked if they had someone who did landscaping and I was introduced to Paul Loberg, and after talking with him for a few minutes he said that he would come by my home and draw up a plan as to what he would recommend. Paul not only drew up a plan, he showed me what plants he would use that blended in with the color of my home, and that were drought tolerant. I decided to go with Paul and Evergreen, and I am so happy I did. My yard looks beautiful! Thank you Paul and Evergreen".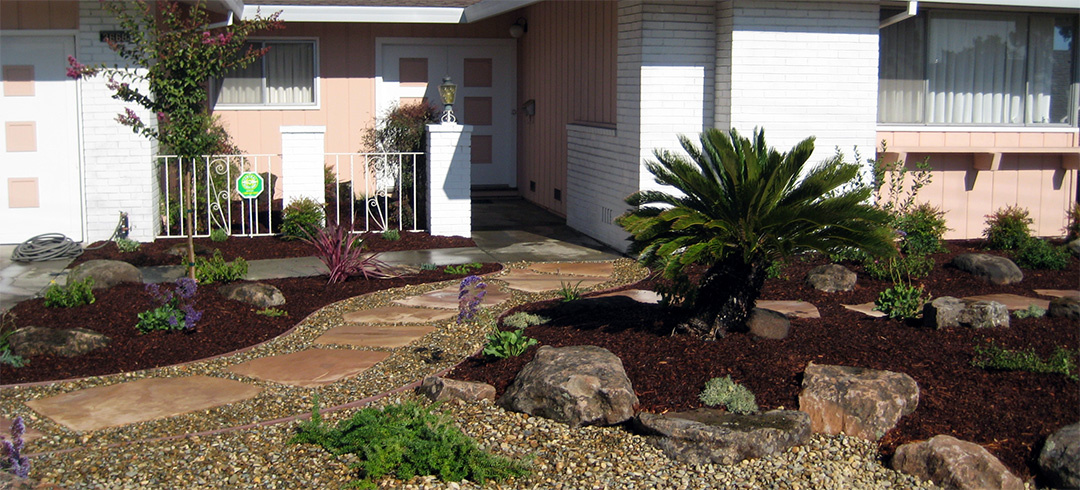 Whether you are a home or business owner, the landscape team at Evergreen will provide you with superior, reliable and quality service. We offer a broad range of services for both residential and commercial properties including the following:
Custom Landscape Design and Consultation
Specialists in Drought Tolerant and Native planting and lawn conversions
Irrigation Installation and Repair, including drip systems for water conservation
Planting Service
Sod Installation
Tree and Shrub pruning
Accent Lighting
Stone Work
Yard Clean-up and Maintenance
California Licensed Landscape Contractor (#963494)
---
Free Resources
Here are some planning, watering, and financial resources you can use for free while improving your yard:
---
Garden Maintenance Service
Let the experts at Evergreen Nursery help keep your garden looking beautiful all year long! We can visit you once a week, every other week or once a month. And we can also meet special requests. Call or email us today to schedule an appointment and estimate.
A Passion for Gardens…
Evergreen Nursery's Garden Maintenance Service brings you over 30 years of plant and garden expertise. We offer so much more than your everyday "mow-and-blow" service–instead we understand plants and know how to care for them properly.
A Passion for Service…
Evergreen Nursery has built a reputation for its knowledgeable and friendly staff. Now our most experienced gardeners are on hand to come and take care of your yard or garden.
You work hard all week. Spend your days off enjoying your garden while we do the work for you!
Our range of services can be customized to suit you:
Pruning and Trimming
Mowing and Edging
Garden Clean-up
Irrigation Repairs
Special Requests